Bottom Fishing & Trolling Fishing Charters in Destin, FL
Bottom & Trolling Fishing Charters From $1800
(All trips include up to 6 guests)
Passengers aboard the Reel Chill will fish the nearshore and offshore waters of the Gulf of Mexico with the industry's finest, expert fishing guides and seasoned Captains. On Reel Chill's Bottom Fishing and Trolling Charters, you'll depart Destin, Florida aboard the "Reel Chill", a beautiful 52-foot luxury Hatteras Convertible Sportfisher – in search of numerous nearshore and offshore species including snapper and mahi-mahi!
We'll employ a combination of techniques on your charter including both high-speed trolling and bottom fishing. We'll troll about a half hour to your first bottom-fishing location before dropping lines to fish for species such as snapper & grouper.
We'll often fish multiple locations on your charter (typically 3 different bottom spots on an 8-hour charter) and troll between locations – giving you the best chance of catching a variety of fish!
6, 8, 10, 12, 14, 16 & 18 Hour Charters Available
Vermillion Snapper
Wahoo
Mahi-Mahi
Red Snapper (during legal season)
And More…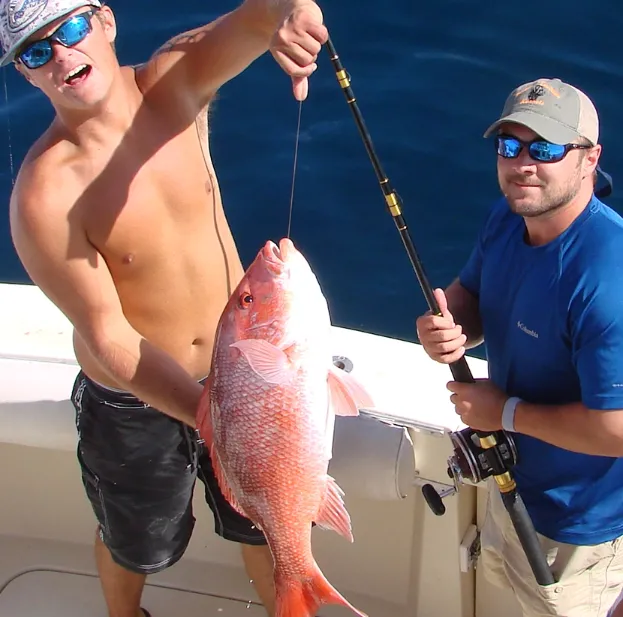 Here's what Reel Chill Charters provides for your Destin offshore fishing charter:
Here's what you should bring to make your charter more enjoyable & memorable:
Testimonials from Our Guests
Went in an 8 hour today and had one hell of a time. Cap and first mate were on their A game. I've been fishing for a long time on other boats but I finally found my "see ya next year" boat.
3rd time that We have chartered with Captain Troy and Suzanne. Fantastic fast and comfortable boat and a great fishing experience. Nate (Deckhand) had his hands full with the fish haul and did an awesome job. Going to continue to charter with Captain Troy and the Reel Chill. Very fun and rewarding experience. Looking forward toward a 2 day overnight to the oil rigs in October!