Multi-Day, Oil Rig Deep Sea Fishing Charters in Destin, FL
Oil Rig, Deep Sea Fishing Charters – $9000
(All trips include up to 6 guests)
Join Reel Chill for a multi-day, offshore fishing adventure to the oil rigs on the Gulf of Mexico. Your oil rig, deep sea fishing charter allows us to venture farther into the gulf, to the offshore oil rigs, and target gamefish not readily available on shorter charters including as sailfish, marlin and TUNA!
On our Multi-Day, Deep Sea Oil Rig Charters your group will depart Destin for the offshore waters of the Gulf with the industry's finest, expert fishing guides and seasoned Captains. You'll be more than comfortable aboard the "Reel Chill", a beautiful 52-foot luxury Hatteras Convertible Sportfisher (equipped with SEAKEEPER for your comfort) – in search of gamefish.
We'll employ a combination of techniques on your charter including both high-speed trolling and bottom fishing. We'll fish numerous locations on your charter and troll between locations – giving you the best chance of catching a variety of fish!
30-48 Hour Charters Available
Wahoo
Mahi-Mahi
Sailfish
Swordfish
Marlin
And TUNA!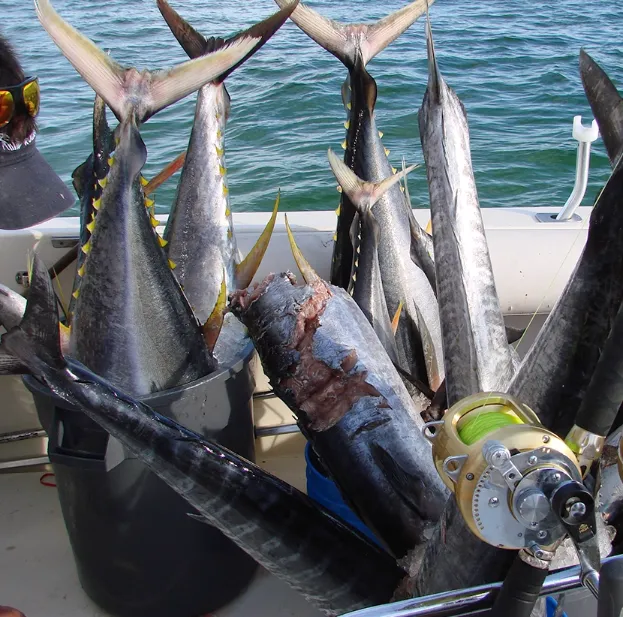 Here's what Reel Chill Charters provides for your Destin offshore fishing charter:
Here's what you should bring to make your charter more enjoyable & memorable:
Testimonials from Our Guests
Capt Troy was great with younger kids. He took us to deeper water and stayed out longer to make sure our girls caught plenty of fish.
Me and my husband have fished with Captain Troy twice now and I'd say we certainly owe loyalty to him. He is super nice and very knowledgeable. Same to be said about his deckhand, Marcus! The boat, Reel Chill, is very spacious and always clean. My first time deep sea fishing was October 2019 and I wasn't familiar with how it would all go. Both Troy and Marcus made me feel so assured and safe and welcomed. I just don't think I could have done it on any other charter boat. The price you pay is so worth it. You will have the time of your life!