Team-Building, Corporate Fishing Charters in Destin, FL
Corporate Fishing Charters From $1800
(All trips include up to 6 guests)
A Corporate Fishing Charter on the "Reel Chill" is the perfect way to better connect with that special Client or embark on a team building outing with your "Star Sales Team" they won't soon forget!
On our Corporate Fishing Charters your group will fish the nearshore and offshore waters of the Gulf of Mexico with the industry's finest, expert fishing guides and seasoned Captains. On Reel Chill's Bottom Fishing and Trolling Charters, you'll depart Destin, Florida aboard the "Reel Chill", a beautiful 52-foot luxury Hatteras Convertible Sportfisher – in search of catches including snapper, mahi-mahi and more!
We'll employ a combination of techniques on your corporate charter including both high-speed trolling and bottom fishing. We'll troll about a half hour to your first bottom-fishing location before dropping lines to fish for species such as snapper & grouper.
We'll often fish multiple locations on your charter (typically 3 different bottom spots on an 8-hour charter) and troll between locations – giving you the best chance of catching a variety of fish!
6, 8, 10, 12, 14, 16 & 18 Hour Charters Available
Vermillion Snapper
Wahoo
Mahi-Mahi
Red Snapper (during legal season)
And More…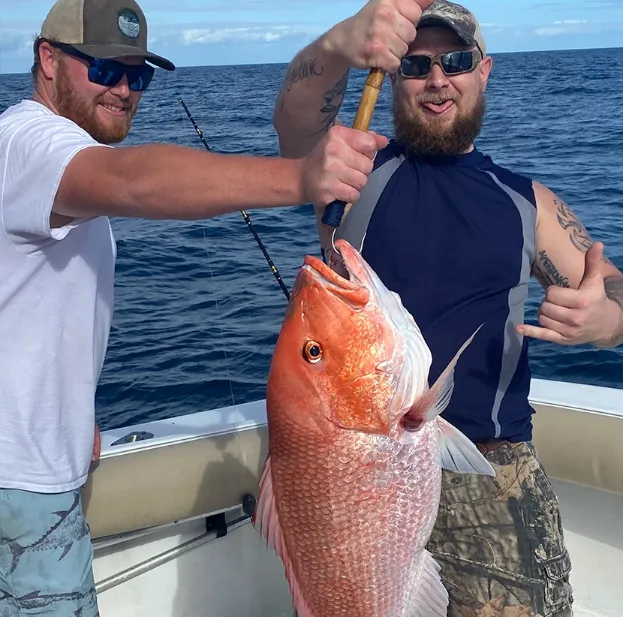 Here's what Reel Chill Charters provides for your Destin offshore fishing charter:
Here's what you should bring to make your charter more enjoyable & memorable:
Testimonials from Our Guests
Me and my husband have fished with Captain Troy twice now and I'd say we certainly owe loyalty to him. He is super nice and very knowledgeable. Same to be said about his deckhand, Marcus! The boat, Reel Chill, is very spacious and always clean. My first time deep sea fishing was October 2019 and I wasn't familiar with how it would all go. Both Troy and Marcus made me feel so assured and safe and welcomed. I just don't think I could have done it on any other charter boat. The price you pay is so worth it. You will have the time of your life!
Captain Troy, Suzanne, and Heather were absolutely amazing taking us out on the boat! It was my Fiancé's and I's first fishing charter and we will definitely be back! I learned even more about fishing! We caught so many fish and had a blast! The deckhand Marcus was super sweet and made sure we had a great time and stayed catching fish. It was the best day ever! We even got to see several dolphins jumping in our boat wake as we came back in as well so that was icing on the cake for me! I've been showing everyone our photos and pictures of our trip! Thank you guys soooo much!