Overnight, Deep Sea Fishing Charters in Destin, FL
Overnight, Deep Sea Fishing Charters – $7200
(All trips include up to 6 guests)
Join Reel Chill for an overnight, deep sea charter fishing experience on the Gulf of Mexico. Your overnight offshore fishing charter provides ample time to allow us to venture farther into the gulf and target gamefish not readily available on a shorter, nearshore charters such as swordfish & marlin!
On our Overnight Deep Sea Fishing Charters your group will depart Destin for the offshore waters of the Gulf with the industry's finest, expert fishing guides and seasoned Captains. You'll be more than comfortable aboard the "Reel Chill", a beautiful 52-foot luxury Hatteras Convertible Sportfisher (equipped with SEAKEEPER for your comfort) – in search of numerous offshore species!
24 Hour Charters Available
Vermillion Snapper
Wahoo
Mahi-Mahi
Red Snapper (during legal season)
Sailfish
Swordfish
Marlin
And more!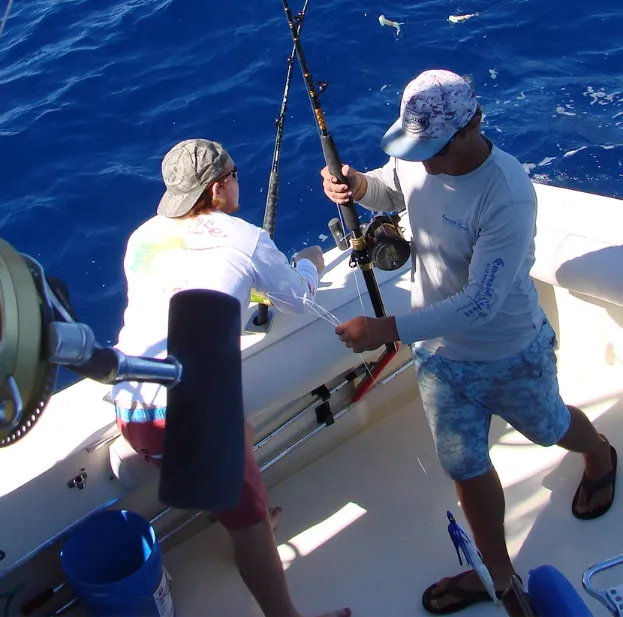 Here's what Reel Chill Charters provides for your Destin offshore fishing charter:
Here's what you should bring to make your charter more enjoyable & memorable:
Testimonials from Our Guests
We booked three charters, during two separate trips to Destin. Captain Troy, Suzanne and Marcus are amazing & absolutely wonderful people in my opinion.
The boat has great accommodations, it's roomy, comfortable & super clean. Captain Troy & Suzanne and Marcus are so knowledgeable & personable …totally awesome group! Marcus has the patience of a saint …. trust me, he fixed my reel more than once on my first day out…. gave me a bucket and a blanket on my second , when the sea didn't agree & then the third time was a charm. Btw , we were traveling with a 6 yr old & she loved every minute of the day & considers all her bff's. The fishing was great , we killed it!
Excellent day on the water. They were very professional, made the experience kid friendly, and created a memorable day for our family. I would highly recommend them for a Charter experience…. especially if you are taking kids a long.